Below is a list of 500 Female Emcees and the first thing that everyone reading this should know is that the list is not complete. To be honest there's more than 500 names, much more, but still the list is not complete nor will it ever be. There are too many places and spaces that I have never been nor have the incredible artists like Aisha Fukashima the Raptivist, Mad-lines, Aima the Dreamer, Raw G,Ximbo, Invincible and D'Labrie who over the past year contributed greatly to this list.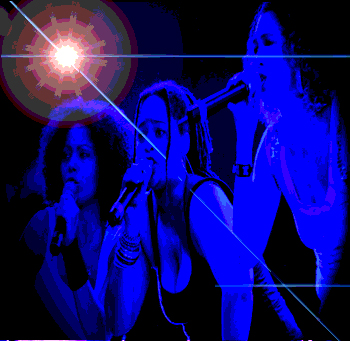 The list is not complete even as we have other wonderful lists like; the Illest Female Rappers,Women of Hip Hop, Female Rappers Tumblir, The Female Rappers Network or more recently Patrick McNease's Ultimate Female Emcee List. If we really think about it, we don't want this or any list to be complete. There will always be more emcees to add as long as this culture call Hip Hop is alive, well and is global. If the list stops growing Hip Hop stops growing..
With that being said, the reason why the list came about in the first place was out of frustration and a realization that many within this industry , in particular my male brethren needed to be enlightened.
It was a frustration that many of my women friends within Hip Hop were having when they would hear some pompous music critic or 'industry expert' say some ignorant crap like; 'all women sound the same' or 'these women need to put out hit songs', women need to grind harder and promote themselves better or 'there aren't a lot of quality women emcees out there'. All those statements are gross generalizations and reflect a laziness on the part of those making the claim or extreme bias.
The frustration many were feeling was one that would come after hearing announcement after announcement for some huge mega-Cochella-Sumer-Jam-Rock-the-Bells-Spring-Bling type concert that would feature 20 plus acts and only one woman would be on the bill. It was frustration that was felt after pointing out such egregious oversights only to be ignored and ridiculed.
It was the frustration of hearing promoters doing smaller shows claiming that women won't attract an audience and hence would not be a sound business move even to have one open up a show.
It was frustration of going to a club featuring a popular deejay lauded for being a Hip Hop icon with a reputation for 'digging in the crates' and turning audiences onto new music from far off lands and forgotten times only to discover that they rarely dig in crates and 'discover' a dope female emcee…
And don't get it twisted, this refusal to share space has been going on a for a while and many women have expressed frustration the ones I know have not been sitting around waiting for miracles to occur. Many have started doing their own shows and put on vibrant events..From Invincible out of Detroit who I saw do several all women showcases at SXSW and have them packed with lines out the door to Aisha the Raptivist who has traveled the world and and done her own tours to Raw G who promotes here in the Bay Area locally and always brings out incredible women emcees like Alika from Argentina Dunay Surezfrom Cuba or Ximbo from Mexico, folks are steady grinding and making moves
Where I think folks are getting short changed are in male dominated spaces where female voices, POV and approaches toward Hip Hop are not readily present. Its a cipher that's incomplete and that has got to change.
The list below was ideally to serve as a guide of sorts to anyone who had this female emcee blind spot.
Its a guide for deejays caught yapping about how 'there ain't no good female emcees'. Its a weak excuse often given for them not rocking any women during a deejay set or mixshow.. Out of all the emcees featured on this list there are  some hard hitters out there they can not and will not be denied. This list gives them no excuse. There are sistas on here who do Trap, Backpack, boom bap, raggamuffin, pop, underground, commercial, hardcore etc..The variety is endless.
The list below is guide for promoters who say there's 'no market out there for women emcees'.  A quick look at some of the folks on this list crushes that assertion down to its very last compound. From the days of Her Story Hip Hop Tours and See It Live showcases to 5th Elementgatherings to upcoming Queendom Concerts to all women showcases put on by Invincible to showcases like Black Women Rock w/ Jessica Care Moore to Rock Like A Girl on the Mic w/Toni Blackman to Hip Sister Radio to name a few, the scene is healthy. No matter what city. No matter what country, there are emcees listed for you to check out.. From Brooklyn to Oakland to Russia to new Zealand to Pakistan and beyond..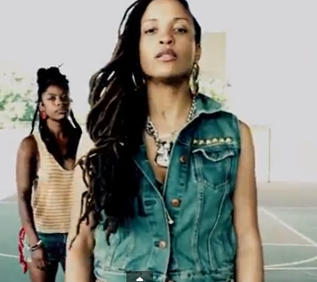 Sa-Roc
The list is a guide for academic types who can speak at length about male artists over various eras in Hip Hop but when it comes time to referencing women, they only know MC Lyte,Queen Latifah and Nicki Minaj and maybe aLil Kim. This list is for them to check out and help expand their hip hop vocabulary so they can reference dynamic women like; Sa-Roc,Stahhr, Rocky Rivera, Shadia Mansour,Keny Arkana, Cihuatl Ce, Kellee Maize orFarrah Burns. Rock their songs, play their videos, examine their lyrics
The way the list works is each name is linked to a video and in a few cases to a sound cloud page.. Some of the names are linked to 3 Dope Song series page or a 500 Female Emcee page. In putting this list together it was noted that one song or video often didn't do artists justice. They are much more complex. As you will note, included on the list are several singers and  spoken word artists whose presence and influence in Hip Hop can not be denied.
It's hoped that folks will peep the music, read about the artists click on the links associated with them and start digitally digging in the crates. Not everyone is gonna be great. Not everyone is gonna have a masterpiece of a song or album, but many do and as lovers and protectors of this culture we all should be pushing ourselves to do a better job bringing forth 'new finds' vs having it be dictated to us by corporate interests and their mouth pieces.